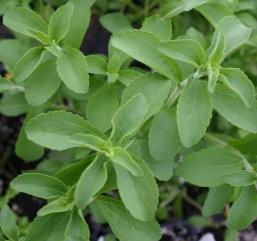 Plant Specifications
Stevia rebaudiana. Tender Perennial. Morning Sun – filtered shade ('cool' sun) Height 12' – 18'.
the leaf of the stevia plant is also known by the names Sweet Leaf and Sugarleaf. A flowering herb with small, oblong leaves with hairs and serrated edges. In Summer, it produces tiny white flowers, growing in bunches ranging from two to six together.
In the Garden
A sweet herb, perfect for growing in a container. Highly popular and desirable herb for the garden, stevia doesn't like to dry out, but standing water will encourage root rot. Raised beds or hills prevent "wet feet," while an organic mulch and frequent watering ensure a constant supply of moisture. Dies down in winter and keep trimmed to encourage new growth. Thrives in rich soil but does not survive cold weather well. In the garden, Stevia has been found to have insect-repelling tendencies. Their very sweetness may be a kind of natural defense mechanism against aphids and other bugs that find it not to their taste.
Plant Uses
Very strong sweet flavor, used for hundreds of years as a sweetener for beverages. Studies have shown that stevia extract effectively regulates blood sugar and is often used as a dietary supplement for diabetics.
A very rewarding plant for any herb gardener.
Related posts